Scroll Down for the Market Reports!
Meaningful Spring Statistics Should be Ready to Post Mid-April
(*Yawn*)... Statistics are not boring!
STATISTICS are the KEY to knowing your market!
* SCROLL DOWN FOR THE MARKET SUMMARIES *

If your Realtor don't know the stats, then what are you paying for? Real estate is about evidence & statistics. It's a numbers game.
If your neighbour's home sold below assessed value, it doesn't mean you should accept a lower price for your home, too. Your neighbour may have simply been out-negotiated, or someone convinced them that the market was on the way down. Clearly, you're at an advantage if you understand what's really happening out there. When you see a house going too cheap, it's hard to miss.
Put your Realtor to the test! Ask them to show you what your home is worth and ask them to prove it. You'll have to when it's time to negotiate your closing price, and you could lose a small fortune if you cut corners. Your Realtor should be able to offer you valuable statistics… piles of evidence… that's the job! You're perfectly capable of guessing… you're NOT paying a good Realtor to guess. A good Realtor will cover his/her fees by getting more money for your home than you could ever get by yourself, by protecting your interests with a solid contract, and by taking the liability off your shoulders should anything about the transaction come back to haunt you in the future.
Luck is for the lottery!

You're Ready to Sell
You've put a sign on your lawn and now all you have to do is sit back and wait for the offers to roll in and make your dreams come true? Probably not in this market, but you can still do very well if you're prepared. Please remember, I'm here to make MY client's dreams come true, not your dreams. If you're my client, I'm here to see that you succeed and I'll make sure that the market has been explained to you. See "Disclosure of Representation".

If you're getting bombed with low-balls and ridiculous offers so frequently that you don't even know what your property is worth anymore, well, that's real estate… that's the game. Some Realtors will keep throwing out low-ball offers until they find a soft-spot. Unscrupulous Realtors will list off "problems" with your home that aren't even there… just to get the price down. Catch them in one lie, and they'll move onto the next. The soft-spot is usually the person who doesn't truly understand the real value of their property, or knows nothing about construction. If you're selling your property without the help of a Realtor, you should definitely be aware of the tricks… some dirty ones.
"I have a pretty good idea of what my property is worth… I have a number in mind" - - If you've ever said this…

Basing the value of your home off your neighbour's property or a free Facebook CMA makes you an easy target. Sorry FiSBOs, (for sale by owners), but you're an easy target, too. I spend all day analyzing properties and the strength of the market, when you're probably out working or enjoying the sunshine. Many Realtors are very good at negotiating, we take courses to get even better at it, and we have all sorts of time to practice and get better, every day. We also spend hours and hours reviewing the statistics so we know exactly where we (and you) stand. You won't win by guessing.

- Are you accepting thirty thousand less? Sixty thousand less?
- A house down the street just sold for a very high price. Are you asking too little?
- If you're a buyer, are you over-paying by fifteen thousand or are you getting a good deal?

Being able to back up the value of your property with real evidence is STEP #1

CONTACT me with your questions … information is FREE!
*KEEP SCROLLING DOWN FOR THE MARKET SUMMARIES*
When Should You Over-pay?
It's okay to pay too much for a property if you feel that you're getting something in return… like flexible closing dates, or an arrangement that helps you get out of your current home more easily. You can call it "good-will"… the amount you're paying over and above the real value of the property, or the "lesser" amount that you're willing to accept. If there's a 15% price increase forecast in the next 5 years, then maybe you're happy to over-pay a little today to get settled in a great place right now? Competition for homes is pretty slow, but it could get a lot busier in another year. Pay a little more for the home you want today so you don't get shut out tomorrow? Very reasonable.
Low housing starts in 2019 could mean big price increases when the market catches up in 2021. Expensive rentals could be worth getting away from if your 10 year plan gets your into a great home in the short term. This is a pretty balanced market and you should realize some added value for your extra thousands. The internet has made information available to everybody but so many people still aren't using it, which could really put you at an advantage if you do. It's disheartening to find out that your neighbour got a better deal on their home, or to wish that you held out for a better price. It's even worse to realize that you got taken for a ride.

Why Statistics Have Become Even More Important
Statistics are critical in an era where every level of government across the country is tinkering with established practices, free markets, mortgage approvals, vacation rentals, air bnb, cottage owners, purchasers of 2nd homes, property speculators, offshore owners... this level of interference is unprecedented. Asset taxes, like the speculation tax, are unprecedented. Stress tests, rather harsh. If you're a first-time home-buyer, you're definitely feeling the stricter mortgage rules.
If you're trying to sell your home in BC, your odds went down to 3 out of 10 last fall, and are back up to 5 out of 10 in spring 2019. By the late summer of 2019 you're up to a 6 out of 10! To put it in perspective, you had a 7 out of 10 chance of selling your home when the Okanagan market was red-hot. Transaction volumes are down to less than 60% of what they were in 2016, which is why the prices have stayed so strong… overall we're still going to call this a seller's market on the Westside of the bridge… more balanced to the north. See why stats are important? It's going to take longer to sell your home because there are fewer buyers in the market, but the prices are still stronger than ever, so don't be fooled by tire-kickers who try to tell you that the sky is falling!
"Interference", you say? Government efforts to regulate explosive markets in Vancouver and Toronto have created uncertainty. Seems that a couple spots in the Okanagan might have been caught up in this debate by our Provincial Government, too. Uncertainty puts downward pressure on many things, and real estate is no different. If the point of government intervention was to tame a wild housing economy then you might think that it's time to clap our hands and cheer! Then again, if this downturn is simply the product of uncertainty, then it's not crazy to expect that the market could return to normal when the dust has settled in another year.

Many would argue that markets independent of Toronto and Vancouver were never out of control, anyway. By late summer 2019, Toronto seems to have recovered to previous market levels. Vancouver is still experiencing a huge adjustment, and buyers are coming to the Okanagan expecting that low-ball offers are being accepted all over the place, however, the Okanagan has dealt with the whole upheaval rather well. No low-ballers here, thanks.
Perhaps late in the game to respond to an unprecedented influx of global capital, (like a pot boiling over on the stove), these initiatives have made it more difficult for young Canadians to become home-owners, more uncertain for home-owners who need to renew mortgages, and more expensive for home-owners in BC & Alberta who have been lumped in with property speculators for reasons that don't seem to add up to anybody but tax-collectors. It means that young folk are forced to stay in their rentals, increasing competition for rental spaces is pushing the rental prices higher. If you have equity in your home, there's good news! All said and done, a lot of very nice, everyday people have managed to do very well and it looks like it's about to get even better in another year.

How is Real Estate Doing in the Okanagan?
CONTACT me with your questions
SUMMER 2019 Market Summary - JULY
It's SLOW out there right now, folks! See that Bright GREEN line in the graph on the left? (click graph to enlarge). Volumes have fallen considerably since 2016, (if you think 60% is considerable), and after a period of beating last year's numbers, they've fallen off a proverbial cliff since June. Prices are still strong, and apart from fewer homes changing hands, and fewer young people being able to buy a home, all that government tinkering hasn't accomplished very much outside of Vancouver, and it turns out that their problems with corruption and laundering were much worse than thought possible. No such problems in the Okanagan!

It's great that they're fixing the problems with corruption and over-seas speculating in Vancouver, but how is this affecting the markets that were never influenced by these issues in the first place?
Well, if you're a young person, you probably still can't afford a home. The rental market is going up and up, because the young buyers who would normally be getting out of their rentals and into a new home are now having to stay in their rentals and compete with everyone else.
Complicate this further by pointing out that none of the governments who said they recognized that red tape and administrative overhead was too high for builders to be able create new housing actually did anything about it. Nothing. Zilch. Nada. The costs are just as high, and the tape is just as… red.
On the bright side for many, is that this government tomfoolery hasn't had any effect on prices at all! They've gone up and up since 2016, and the market is still strong, although transaction volume is very low. This is good news, as it means that Canadians haven't lost all the value in the biggest investment that most of us have ever made. If house prices plummeted, it forces you to wonder how many homeowners would have lost just about everything. And the government was hoping that values were going to plummet anyway? If you're wondering how any of this makes sense, then you're not alone. Just be happy that the market didn't crumble, and be happy it looks like we're all going to make it through this with our investments intact.
Prices are strong. You can't argue that it's still a Seller's Market on the Westside… more balanced in Kelowna.
If you're selling, be patient. There are fewer buyers out there, but they're still paying solid prices to live in wine country! Tire-kickers and low-ballers are going home empty handed. Be confident.
SPRING 2019 MARKET SUMMARY… so far
How's the Market Doing?
May 2019
The first 15 days of May have witnessed approximately 2 listings for every 1 sale. That's 5 out of 10… a balanced market, as forecast previously.
In the first 21 days of May, we've seen approximately 6.4 homes sell for every 10 homes listed… which is even better news for sellers, although the price data won't be in until the end of the month.
The Spring has been slow to start, so new numbers in the coming weeks will surely add more to the story. 44% of all home sales in the Okanagan are going to happen in the next 4 months, so grab a coffee and pay attention!

The BCREA (British Columbia Real Estate Association) and OMREB (Okanagan Mainline Real Estate Board) have forecast lower listing and sales volumes, but prices are expected to remain stable in 2019. Much of this is attributable to interest rates that did not increase recently, and a historical tendency for upcoming elections to put downward pressure on interest rates, too. Uncertainty almost always puts downward pressure on economic indicators, which can be good for buyers… sellers really have to pay attention.
Why would the upcoming October federal election matter? Because the stress-test and stricter mortgage rules could be undone by a newly elected government with the swipe of a pen. Government tomfoolery is never good for the free-market and this uncertainty has kept many buyers & sellers waiting in the wings… thus, the lower volumes. Also, BC must have a provincial election on or before October 16, 2021, although there are a half dozen reasons that a provincial election might be forced much sooner than this… it adds to the uncertainty.

Another swipe of the pen from a newly elected provincial government could see the Speculation Tax relegated to the trash heap, too… and rental restrictions, and red-tape for housing starts. If the market is allowed to function freely, then prices usually increase. Just look outside at that beautiful lake… the Okanagan is breath-taking, winters are easy, and businesses are growing stronger. If you're waiting for home prices to drop, you're better off buying a lottery ticket, although there are some good deals out there on entry level homes and fix'er up'ers right now, too. Young folk traditionally buy these types of properties, and since they've been having trouble qualifying for mortgages under the new rules, these places haven't been moving very fast. As people adjust to new market conditions, you can bet that the pace will pick up soon enough.
The short story... sales & listings are down, but prices are stable. This is a natural market-force correction. Lower supply increases demand, which makes prices hold steady. Too much supply and prices will fall. Too much demand and prices will rise. The forecast is right in the middle this year, and expected to stay almost flat with prices increasing by about 1%. When the "dust has settled" in 2020, prices are forecast to start growing again by about 7%.
If you're looking for a really simply way to explain it all at the pub, blame the lower volumes on the uncertainty with respect to the upcoming federal election, and the stable prices on natural market forces with respect to lower volumes. Anyone who thinks the market is tanking or becoming a "buyer's market" has obviously been reading the news, but not the numbers. Google News says the market in Vancouver is tough, so they assume the sky is falling here, too... but statistics are more reliable. We are not Vancouver.

In close-knit areas prices can affect one another like dominoes and a couple of panicking sellers can drop the price on an entire complex, so there could be some great deals out there for condo-buyers! With an increase in condominium listings, that market is surely experiencing a price-decrease in some areas. Detached homes are a different story… and that story is broken down into even more price categories. After a couple of years of mobile-home values exploding skyward, their prices have come half-way down to earth again. Yes, it can get a little complicated. But the answers are out there if you're willing to do the work. Give me a call to talk it over.
Stay tuned and stay informed! There are new updates every week and they definitely apply to you.
April 2019…
The spring is just beginning! We still need more numbers before we know what's really happening out there. Sales are warming up as we move forward, but it's still early. If you're thinking of LISTING, it's a good time to choose your Realtor, start putting all the numbers together, and setting your expectations and goals.

There are a couple of observations we can make:
- There are about 13% fewer sales than there were in March last year
- Average sale price is only about 2% lower than March last year
- The supply of homes on the market has decreased since February by about 12%
- Homes are taking a little longer to sell. The Days on Market is up to 92 from last March's 79
- We're still in the 3 out of 10 chance of selling your home category… (it's a very general statistic; I'll explain it in a moment).

To put it in perspective, you had a 7 out of 10 chance of selling your home in the hot market a couple of years ago… that's high! We're hoping it heads to a 5 out of 10 when the busy season gets under way in another month or so… that reflects a pretty "balanced" position between buyers & sellers. A balanced market is a pretty happy place, as buyers aren't pressured to make decisions, and sellers can expect their homes to sell in a reasonable amount of time for a good price. As a seller, you might not get a high volume of offers, but you can expect to receive at least a couple of offers that are pretty solid. As a buyer, you can expect sellers to be pretty easy to work with.
Explanation: a lower "10 out of 10" score doesn't necessarily mean you won't be able to sell your home, but it might mean it'll take more time to sell, or you'll sell for less money… it's a very general gauge. Below 5 would start looking like a buyer's market… too low, and you can expect to deal with a lot of low-ball offers. Above 5 would start looking like a seller's market… too high, and you can expect the competition to be pretty fierce, which could add pressure to the process.
What's Happening
Better answers will come with more data in a few weeks, but a few of the possible explanations could be as follows:
- Sellers don't have a lot of confidence in the market just yet. 2018 was a wild ride. People are waiting to see what happens next.
- Buyers are wondering if the market will tumble again. Maybe it's worth waiting to see if prices will fall?
- 2018 rattled everyone so badly, that they've put off their plans to move until buying & selling is more predictable.
- Sellers feel encouraged to list in a hot market, but they tend to hold off if they think listing will be difficult or unsuccessful.
- Some Realtors can get pretty aggressive as they push for new listings, which can be a turn-off.
- Overall, it reflects good ole' human uncertainty, and everyone deserves to feel that they're making the right decisions.
- Buying & Selling a home should be enjoyable! It should bring success to your life.
Fewer Homes On the Market
This is kind of peculiar. With fewer homes on the market, you'd expect that they'd sell more quickly, right? Less inventory and strong prices sounds like a return to a seller's market? Well, no. The market is moving along… perhaps not as quickly as we've come to expect in the spring. Prices haven't fallen much, sales are lower, listings are lower, and the numbers aren't really lining up in traditional ways.

Interest Rates
There was a lot of upward pressure on interest rates for a while, but they seem to have stabilized. Maybe you've noticed advertising for some pretty competitive interest rates lately? Social media, bank ads, newspaper ads… spiraling interest rates had taken over the headlines a little while ago, but there hasn't been any mention of them lately. Maybe they'll even be on their way down in the coming months? Whether a small adjustment makes a big change to your financial position or not, It just adds to the uncertainty.

Politics
Politics seems to have played quite a roll in all that interest rate stuff, but the political landscape seems to be going through some changes, too. Current governments introduced policies to slow the market down, which means the policies could change again with the swipe of a pen, with pandering for votes for the fall election, or with the election of a new government. Albertan buyers have traditionally been quite involved in the Okanagan market, too. Their politics could effect our politics, which could effect housing prices. It's a complicated beast.
The CMHC introduced a new program to help first-time buyers get into the market, and it could help mitigate the rather disastrous effects of the Stress Test; that is, if the government doesn't decide to get rid of the Stress Test, altogether, (which doesn't seem likely). OMREB President, Marv Beer, points out that every millennial who isn't able to buy a home will have to stay in the rental market, making rentals more competitive & expensive. We've surely seen evidence of this across the country.
With the focus on stricter mortgage rules, higher interest rates and even a speculation tax to take the steam out of the housing market, there's been little to no attention paid to helping assure a sustainable supply of affordable housing. Adding to that problem is that many sellers who would typically upgrade to larger homes are unable to re-qualify for financing under stricter mortgage rules, which means even fewer entry-level homes on the market for new buyers.
At the end of the day, the answer likely lies in governments doing things differently and it's likely a basket of actions to fuel creation of a spectrum of affordable housing to accommodate a range of population requirements"… Marv Beer

I'll post more stats in the coming weeks.
Back to the Market in General
Through all of this, real estate is doing well in the Okanagan. We're not experiencing the records set in 2017, but even skeptics would have to admit that the market, although slower, is still in good shape. Prices are solid and they're not retreating drastically. We look to the stats in an effort to determine what the spring will bring.

The newest budget from our NDP Government puts a lot of faith in a recovering real estate market to balance its spending forecasts. Many are arguing that it's a little "too much" faith, as the interference (mentioned earlier) has really had an impact on sales volume. Government coffers are missing the transfer tax income that comes from lower sales volume, but their outlook for real estate is pretty cheery.

Click to enlarge the chart below and notice that although the median price has fallen since January, (a star marks the highest point in our history), July 2018's average has only been bested at one other point in history, (also marked with a star). Don't let the numbers mislead you, as the volume of homes sold in January is much lower than the volume of homes sold in spring & summer months. It shows that prices are still strong, and that's about it. The most recent BC Assessments are "up"… about 7% on average throughout the Okanagan.
What the heck is going on???
The Okanagan Market has been slower for a year now, but home values haven't taken a dive just yet. In fact, the prices remain strong and homes are spending as many days on market as before, although sales have slowed and there's more inventory We'll look at it again when new numbers start rolling in spring.
No, really… What the heck is going on??
Is it the proposed speculation tax? The Battle of Horgan vs. Notley? Federal Lending Rules? Increased Interest Rates? Smokey skies? With most of the stats pointing to a cooling market, the rest of the stats don't quite seem to be lining up accordingly. OMREB President, Marv Beer, notes that it takes time for prices to catch up to cooling stats, although the stats have been cooling for 6 months at the time this article was written... which is leaving some very clever people wondering how long this correction is supposed to take.
Statistics can be skewed
You have to consider a few things that can skew the stats. The Okanagan draws our share of retirement-minded folks, who often have enough money to buy their next home with a suitcase full of cash from another sale. They often favour homes with 2 car garages and ranchers with flat entrances, or gated strata communities to take care of the snow and landscaping while they're working on their Yuletide suntans in Arizona. You might not think of these folks as the typical home-buyer, until they add up to a sizable demographic of the community in which you live, at which point you might appreciate how "their" statistics might be messing with "your" statistics.

Also, if you consider that these folks might not be interested in typical family-oriented homes, and the families who actually want these properties can't get a mortgage with the new federal lending rules, then statistics can get downright cloudy. Presumably, family-oriented properties are going to sit on the market for an awful long time, whereas the stratas might be selling in weeks. How about the price of family-oriented homes? Longer Days-On-Market usually translates into falling prices, so will my clients look at me like I'm crazy when I tell them that prices are on the rise? You've got to be careful with statistics. They tell a story... it can be a mystery and a thriller, too.
Fixer-Uppers
Fixer-uppers in the 400K range are spending more time on the market and thus, losing some value, which would be a great thing for young home-owners if they could afford the financing. Alas, if the efforts of one level of government giveth, then it would seem that the next level taketh away. * It might mean that there'll be some good deals out there! * Like a box of hamsters crawling all over each other, it's going to take a while to see who comes out on top before bedtime. In the meantime, it would seem that life goes on quite the same as before, if only a little slower.
CONTACT me with your questions
The Speculation Tax
Municipalities rallied against this proposal, as it become clear that this tax will hit BC Residents more than anybody. It's here, and the Provincial Government doesn't seem interested in changing direction. Healthy vacancy-rates haven't changed their direction, appeals from local governments, the leader of the Green Party, slowing markets… click here to find out how the speculation tax will effect you.

Please keep this in mind as you consider what the stats mean to your interpretation of today's Okanagan Market:
Interference is like static on the radio... it means there's something going on out there which is making the signals less clear. Take the example of a fire-damaged bungalow in Vancouver selling for 4 million bucks... crazy, right? Acting on the idea to pack more people into a smaller space, the City Council allows the new purchaser to turn one bungalow into 8 condos which can be sold for a million bucks a piece. So, thanks to pen & paper, 4 million bucks for the remnants of a burned-out bungalow is actually a great deal that could net you millions as a developer. Furthermore, eight happy home-owners can pick up a new condo for half the cost of a bungalow that was half the cost in 2016… two years before the fire damage. Now it's not so crazy after all.
Cycles
Ups & downs would seem to come in cycles in the real estate game, and since the market recovered from the 2008-2013 recession, then history would suggest that we should still have a couple of good years left in the market before the next down-turn. My crystal ball has been a little smokey since summer, but every new month brings new insight, and analysis from OMREB is the best in the business. If you're talking about Government, then It's possible that a change next year could shake the market up yet again. This is a great conversation to have over a coffee if you'd like to discuss your situation! Knowing your options is time well-spent. Please feel welcome to give me a call.
September to October 2018 - Market Stats
NOTE: I'll pick up on summarizing new statistics when they start rolling in for the spring. Fall stats are more relevant than winter stats.
CONTACT me with your questions
Volumes are naturally a little lower as we head into the fall and winter, but the stats can still tell a story. Do you know any people who have made home purchases in the "off" season? Most of my friends bought in the off-season, myself included. We're looking for trends here… indications that the market is clearly changing and headed in one direction or another. Bear in mind that conclusions are more reliable with more data, and when you're working with less data in the slow season, you've got to read between the lines.
Months of Inventory (MOI)
Generally speaking, where there is less than 4 months of inventory we'd say that we're in a "sellers" market… 7 months of inventory is more "balanced"… more than 9 months becomes a "buyers" market. It's like this… the longer it takes to sell your home, the more concessions you'll probably make to get it sold. Taking six months to sell your home isn't so bad, but taking a year to sell it becomes frustrating. You'd probably start thinking about dropping the price, yes? When everybody starts doing that at the same time, the market changes.
We've arguably been in a more balanced position after the peak of 2017. Looking at the chart to the right, the MOI is creeping up as it does every fall and winter, but the trend doesn't reveal any dramatic changes just yet. A brief panic in the summer, this is a more stable trend.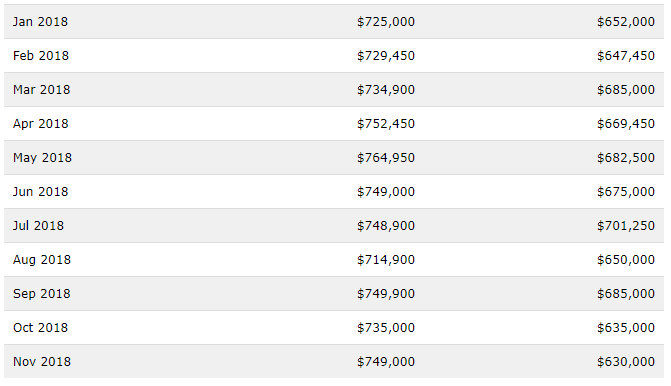 Original Price vs. Sold Price
When home sales are strong, many sellers ask for more money. Although you can't blame them for trying, buyers don't necessarily pay more unless other sellers are doing the same. From the chart to the left, the spread became less in the summer months of 2018 as sellers reacted to a triple-whammy of market-busters that seemed to come out of nowhere like a deer on the highway. The pending speculation tax, lending rules and higher interest rates piled onto the market at what should have been the busiest time of year. As we enter the fall months, we see that things are looking more stable and the spread is returning. The uncertainty has settled and sellers are returning to higher prices, willing to shoot for better returns by giving their homes a longer soak over the winter. The pressure is off and the process of buying and selling has become more reasonable, which is surely a benefit to consumers. Yes, you get more tire-kickers, dreamers and low-ballers, but a good agent who's done the homework will be able to guide you through it. There are some categories where prices have fallen, but this is not market-wide and we'll see evidence of this in other data.
Historic Count of Sales by Month (CSM)
Follow the trend (chart on the right) from the top of 2017 to the bottom, and then again from the top of 2018 to the bottom… and don't include November because the month is far from over at the time this chart was generated.
Sales are going down, which explains why the MOI (two charts above) is going up. Note that the spread between 2017 and 2018 is pretty consistent, which means that things aren't changing all that dramatically here, too. You can make a few deductions when we add this third data set to the others:
1. Sales are a lower
2. Homes are taking longer to sell
2. After a brief freak-out in the summer the prices have balanced out again.
Median Sale Price
In spring and summer months we would benefit by comparing all the different categories of homes, availability and prices. It makes less statistical sense to do this in the fall and winter months, as there isn't enough data to help us make reliable observations… especially with all the government tom-foolery that lead to the upheaval of last year's record-breaking market. We're interested in general trends at this point in the year, as we're pretty much trying to answer one, simple question:
Q: "Is the market any good?"
With this evidence, you will now be able to say this with statistical certainly: "Yes, the market is still good."
Look at the Median Sale Price Data to the right. Notice anything interesting? Most of the sale prices are up! Newly released BC Assessments are up, too. As mentioned earlier, DO NOT make the mistake of assuming that the entire market is still heading skyward like it was in 2017. Stats can be deceiving. The median price of homes can be influenced by a few things:
1. The fix'er uppers aren't really moving. Markets usually soften as a result of a poor economy, and the first-time home-buyers who usually pick up the lowest-priced properties are the ones affected by a poor economy first. They generally don't have a lot of savings, so if they lose their jobs, then the dream of owning a home often goes with it. Increased demand for rentals is followed with higher rents.
In 2018, we're told that the economy is performing well enough, but the new lending rules, rising interest rates, and stress-tests have put these lower-priced homes out of reach for younger buyers anyway, as they can't qualify for the mortgages they need to become home-owners. If interest rates keep rising, then the prices just might have have to come down an awful lot further before this changes. Want to add another wrench in the gears? People with a little extra money start looking for flippers when the price is right.
2. Boomers and X'ers have equity. More established home-owners are usually buyers of mid to high-priced homes, and they often have the money set aside to be able to afford them. Some of this money can come from home-equity, but they often enjoy better-paying jobs that are also more stable in a troubled economy. If these folks are buying expensive homes and the less-expensive ones aren't selling… the Median Price goes higher.
3. Competitive advantage encourages middle-buyers to spend more. Remember that little freak-out in the middle of 2018? If middle-buyers had been looking for a 700k home, they might have been encouraged to spend 775k for a home that used to be selling for 850k before the flurry of price-reductions. It's a great deal! Banks make a lot of money in the mortgage-business and if younger folk can't qualify they're happy to sell to older folks who can. Older folks can likely stretch themselves a little further without getting into trouble. There are some competitive rates being offered by the big banks, and HSBC has made headlines recently for their discount rates. Did you really think the banks wouldn't react?


August 2018 - Market Statistics
"We are now six months into a cooling trend, with a curb in demand arising from natural market shifts, but intensified by government intervention in the form of tougher mortgage rules, higher interest rates and the threat of a possible speculation tax," says OMREB President Marv Beer.
Of note is an increase in average days on market, now at 78, up from 65 days the previous month and 69 last August. "While we are not seeing it as yet, downward pressure on price typically tends to occur when days on market lengthen," says Beer, noting that average price in August was $511,916, an 8% drop from the previous month, but 5% higher than this time last year.
Prices haven't taken a tumble yet. Inventories are up by about 32% in Residential Properties, and a whopping 43% in condos! More inventory is more selection, so this is surely not a bad thing for consumers on the buyer's side, although the fact that prices have not yet fallen suggests that the financial advantage is still with the seller's side for now. In real numbers, there were 8222 listings in the OMREB in 5 categories, (Residential, Condo, Townhouse, Lots & Mobiles), 3700 sales, and an active inventory of 3361 properties.

Sales of empty lots are down almost 50%, but that probably isn't going to make any headlines. There's 30% more inventory and the prices are up modestly from last year. It's reasonable to expect the demand for lots upon which to build new homes will be down if there's been an increase in homes on the market. No big surprises there. If you're a builder in a market that might be softening, would you hold off on new projects until you could be certain that prices were going to stay strong? Yeah, you might even sell your empty lots if you wanted to free up capital.

Mobiles continue to climb in value by approximately 20% since last year. Sales are only down by 10% and inventory is up by 30%, but it looks like they're selling in less time, though. Mobiles continue to do very well!
Summary: 2017 set records... 2018 is slower. It's easy to assume that this trend will continue, and prices would generally be expected to head south when homes begin spending more time on the market. With Provincial and Federal Government policies having such an impact upon the market, it's easy to imagine what a change in government or a change in policy could accomplish, almost overnight. What would happen if the Provincial NDP let go of the Speculation Tax, and the Federal Liberals let go of the Stress Test on the very same day? Would young people be able to buy houses again and city-dwellers be back in the market for summer properties? Hard to argue that it could be a real game-changer.
July 2018 - MARKET REPORT
KELOWNA, B.C. – August 2nd , 2018 - OMREB
Residential sales across the region of Revelstoke to Peachland moderated slightly in July, with 742 sales posted to the MLS®,
- Sales are down 7% from last month (June 2018)
- Sales are 23% lower than this time last year
- Prices are 11% higher than this time last year
- This represents 5 months of consistently lower sales volumes than last year

"I think we can officially say that we are moving towards balanced market territory, although we are still at a point where the market tends to favor sellers more than buyers, yet not as much as in previous years," comments OMREB President Marv Beer.

- Inventory of new homes on the market is 26% higher than at this time last year.
- July's average price held at $559,235 - - - 2% higher than June and 11% over this time last year.
- Days on market is consistent with this time last year, at 65 days versus 63.

Who's Buying in the OMREB Area?
- 50% to 60% of buyers in the Okanagan Mainline Area are BC Residents
- Lower Mainlanders/ Islanders comprise about 20 % of this group
- People from other provinces comprise about 15% of buyers, with Albertans generally representing 10% of this group
- Foreign buyers account for less than 3% in the OMREB Area
- The OMREB is divided into 3 market areas:
1. Peachland to Lake Country (Central Okanagan)
2. Predator Ridge to Enderby (North Zone)
3. Salmon Arm to Revelstoke (The Shuswap)

"The make-up of buyers of homes in this region, softening market conditions and continued federal government intervention all would suggest that further interference in the market via a speculation tax that would impact long-term BC homeowners far more than speculators, out of province, or foreign buyers is not needed and makes no sense whatsoever," contends Marv Beer, noting that two-thirds of the homes targeted by the proposed speculation tax are, in fact, owned by BC residents.
MARCH COMPARISONS ON THE LEFT... APRIL COMPARISONS ON THE RIGHT
Always get professional advice before relying on any information you find online.
Residential Listing... April 2017 vs April 2018
There were 420 listings in 2017 and 506 listings in 2018
Sales last year were higher at 255 vs sales this April of 225.
The average price this year is higher at 726,926 vs 667,105.
It took an average of 42 days to sell last year vs 50 this year.
Last year's inventory was lower at 719 vs. 919 this year.
Summary: Sales are down this year but prices are higher. There are now more homes on the market and they're still taking longer to sell.
Condo Lisitings... April 2017 vs. April 2018
Listings are up from last year's 199 to 231 this April.
Sales were down from 162 to 129 this year.
The average price this year is up from 336,139 to 362,600.
It took an average of 45 days to sell last year, and 41 days to sell this year.
Last year's inventory was substantially lower at 347 vs. 464 this year.
Summary: There are more listings this year, and the average price is higher. They're selling a little faster and there's much more inventory available.


Townhouse Listings... April 2017 vs. April 2018
Listings are up this April from 127 to 141.
Sales were down from 82 last year to 76 this year.
The average price is up from 453,658 to 492,929 this year.
It took an average of 43 days to sell last year vs. 58 days this year.
Last year's inventory was lower at 223 vs 268 this year.
Summary: Sales are down, but not significantly. The average price is higher, but units are taking longer to sell.


Mobile Home Listings... April 2017 vs. April 2018
Listings are up this April from 38 last year to 42 this year.
Sales are up from 19 last year to 25 this year.
The average price is up from 129,905 last year to 179,625 this year.
The average days to sell is up from 51 last year to 74 this year.
Inventory is down from 80 last year to 65 this year.
Summary: Number of listings is relatively stable and there are more sales. The average price is much higher, but they're spending more days on the market.

Always get professional advice before relying on any information you find online.

Residential Listings... March 2017 vs March 2018
There were 423 listings in 2017 and 420 listings in 2018
Sales were substantially higher last March at 244 vs. 183.
The average price this year is higher: 734,197 vs. 640,613.
It took an average of 45 days to sell last year vs 50 this year.
Last year's inventory was higher at 659 vs. 601 this year.
Summary: Sales are down quite a lot, but prices are much higher. There are fewer homes on the market and they're taking about 20% longer to sell.
Condo Listings... March 2017 vs. March 2018
Listings were up this March to 279 from 242 last year.
Sales were down from 165 in 2017 to 129 this year.
The average price this year is slightly higher; 364,062 vs. 349.506 last year.
It took an average of 44 days to sell last year, and 42 days to sell this year.
Last year's inventory was substantially lower at 340 vs. 416 this year.
Summary: There are about 15% more listings this year and the average price is slightly higher. They're selling in about the same amount of time, but there's much more inventory available.
Townhouse Listings... March 2017 vs. March 2018
Listings are similar this March at 145 vs. 139 last year.
Sales were down from 103 last year to 63 this year.
The average price is up to 499,413 from 453,619 in 2017.
It took an average of 53 days to sell last year vs. 46 days this year.
Last year's inventory was lower at 201 vs. 244 this year.
Summary: Sales are down quite a lot. The average price is up comfortably and the higher inventory is selling in shorter time.
Mobile Home Listings... March 2017 vs. March 2018
Listings are up this March to 33 from 28 last year.
Sales are down slightly from 21 to 15 this year.
The average price is much higher at 196,887 vs. 113,188 last year.
It took only 62 days to sell this year vs. 105 days last year.
The inventory is stable at 67 last year vs. 64 in 2018.
Summary: There are slightly more listings and slightly fewer sales. The average price has increased wildly and mobile units are selling in very short time.
IMPORTANT!
Each of the "Summary" components and the information provided here is subject to interpretation and is also subject to other factors and statistics which do not appear on this website. More information is available if you would like to make a request, and additional information has the potential to change the way in which you may interpret the data. Information is considered accurate as it has been obtained from industry statistical experts, but should only serve to provide a general insight into the nature of the current market and is not necessarily applicable to your personal situation or investments. Always obtain professional advice before making financial decisions or relying upon any information you find online. Statistics can be misleading and may not apply to your personal financial situation. Statistics can be misleading if they are interpreted without being thoroughly researched and fully understood. We're happy to discuss this with you, and there's never any obligation.
MARCH RESIDENTIAL A MIXED STORY
From Revelstoke to Peachland, (the Okanagan Mainline Real Estate Board - OMREB), sales are down 24% from last year. OMREB President Tanis Read says it's difficult to know if this is an anomaly or whether it indicates a significant issue.
Average prices are up 10% over last year and the days on market are consistent with March 2017. There are 3% more listings when compared with last year, which doesn't represent much of a change. Are sales down because it's been a slow spring? Bad weather? Bad politics?
Globe & Mail: A line has been crossed on taxing soaring home values
According to a BCREA report, a 10% negative shock to home prices would extinguish $90 Billion of (BC Homeowner's) wealth, or $70,000 of the average home-owner's equity. Falling home prices can lead to reduced consumer spending, drop in housing demand, less new home construction, fewer jobs, and ultimately worsen the housing supply problem that these measures were intended to improve.
Is sabotaging the strength of the housing market the best way to encourage builders to create more housing? Builders have been complaining about government red-tape forever, so you might wonder why governments haven't made any significant moves to address this yet? Taking a pipe to the knees of home-owners and first-timer buyers seems more like a last resort than a first step.
Addressing housing affordability from the demand side instead of the supply side raises a lot of questions. Clearly, if we have a problem with supply then the obvious solution would seem to be to create more houses. More supply is less demand; less demand is lower prices. If low supply and high prices are what people have been complaining about, you'd assume that the intention of every level of government that has added their own sprigs of wolf's bane and frog's legs into this boiling cauldron would be to fix this first.
Making it more difficult to afford housing... to reduce the demand for housing... to meet the demand for housing...
Maybe it makes sense to you.
Stay tuned and STAY INFORMED as the saga unfolds!